Responding to the environmental crises facing our planet
As Christians, we're called to care for God's creation, and the climate issues facing our planet are hugely important to us. Since Diocesan Synod declared a climate emergency in March 2020, our Environment Task Group (ETG) is overseeing an ambitious programme of change, with three key strategic aims:
Watch a series from Bishop Olivia on why we should care for creation at all levels in the Church, and read our commitments to being an Eco Diocese - we achieved Bronze status in 2022. Discover many resources via our EcoHub and find ways to make space for wildlife in your churchyard with Wilder Churches.
Read about our £10m investment in clergy housing as part of net zero plans, and Bishop Steven's revision to the liturgy in baptism and confirmation services to include a new final question to the commissioning where the whole congregation promises to live out our everyday faith:
Will you strive to safeguard the integrity of creation, and sustain and renew the life of the earth?
With the help of God I will.
---
Quick links: Our environmental policy | Book an energy audit | Contact the team | Parish resource pack
---
Equipping our people
Equipping local churches
NEW event - 'From Energy Audit to Action Plan',
7th October 10.00-13.30, St John's and St Stephen's in Reading.
Join our event to find out how to turn your church's energy audit recommendations into a deliverable action plan. For more details and to book your place, visit our Eventbrite page.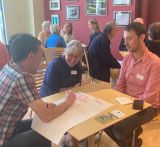 Over 150 people attended four 'care for creation' events in June, run in partnership with A Rocha UK and supported by three Area Bishops. People heard inspiring stories of action amongst churches across the Diocese - including:
- A Co-Wheels car scheme and 16 'climate conversations' at Holy Trinity Headington Quarry
- Chinnor Churches Go Wild scheme in partnership with the local Wildlife Trust
- A 'Covenant with Creation' commitment at St Michael and All Angels, Summertown
- Reducing energy and carbon at All Saints Dedworth and
- Campaigning to local politicians in Reading
Helen Stephens, Head of Eco Church at A Rocha UK, spoke about 'Eco Church - what good in a world on fire', and there were panel discussions on how green teams can start to change the culture of leaders and congregations on this issue.
To join your local Eco Church network, receive the links and resources from these events, or find out more, contact the Environment Team.
EcoHub
Our EcoHub is a collection of resources to enable everyone to respond to the climate and ecological crisis. Have a browse now
Environment Parish Resource Pack
Easy-to-follow advice on how to improve sustainability, reduce energy consumption and save money for your church, no matter your tradition or location in the diocese.
Join our Greenshoots Network
A network for all those helping their church take environmental action, to connect with others for mutual support and information sharing.
We have monthly online get-togethers and occasional on-site gatherings - have a look at what we get up to.
Join our Greenshoots Facebook group to share ideas and learnings with others across the diocese and ask your burning questions, no matter how big or small!
Highlights from our recent gatherings
At our latest gathering, we focused on advocacy:
We heard from Col. George Curtis on his advocacy work individually and with the Churn Churches Climate Action Group, Need Not Greed and Bioabundance.
George recommended the Tortoise Media news service and their Net Zero Sensemaker emails.
The Churn Churches Climate Action Group received helpful lobbying advice from Hope for the Future and George is in frequent contact with his MP.
George has assembled his ideas on how we might address the challenges of climate change and runs a page on the Bioabundance website focussing on three effective areas of personal action.
We heard from Phil Evans from Christian Aid about the work of Christian Aid and their current Rise Up Pay Up campaign on loss and damage and the Talking Climate Justice Tour.
Phil pointed out that many MP seats are now not as secure as they were, so they are listening to their constituents more. Now is a good time to invite MPs to activities and involve them in a conversation on environmental issues.
St John's and St Stephen's in Reading have been looking at the six shifts suggested by Take the Jump to protect the earth. They have been promoting the Eco Church award scheme in an ecumenical group of local churches, as many want to take action on climate but don't know where to start and so find Eco Church a helpful framework.
Care for Creation
Our monthly newsletter contains resources, stories, information, updates, news, and events on everything related to caring for creation in the Diocese of Oxford and beyond.
Subscribe to our Care for Creation newsletter
There's also a diocesan-run course that grounds the science of climate change in theology, equipping us for action through the Eco Church framework. To express an interest in the next course please email us.
Deanery Environmental Leads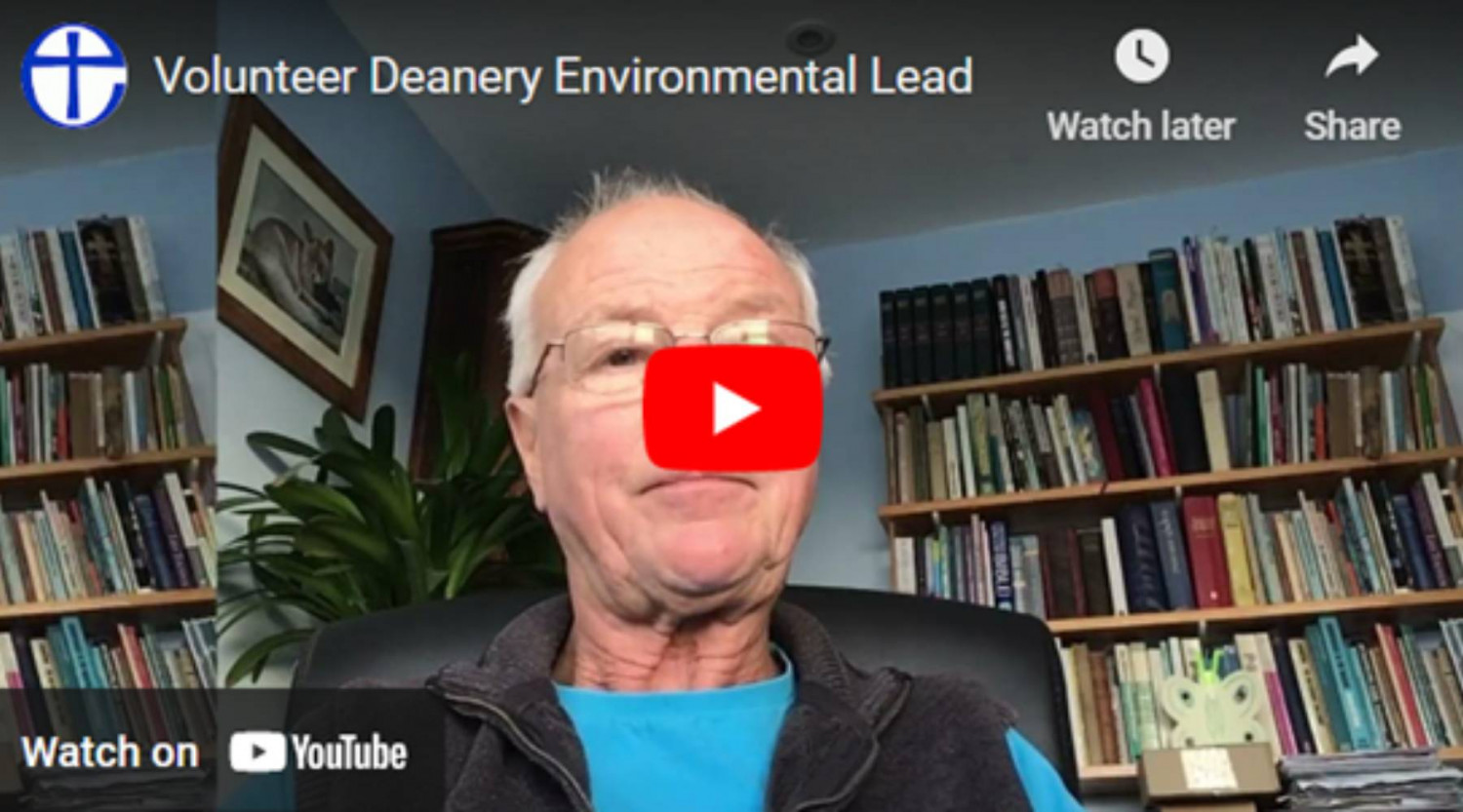 Our deanery leads are here to support you on your creation care journey. They offer advice and experience on EcoChurch, speak to Deanery Synods on issues that matter to you, and represent your views and concerns to the diocese.
We are looking for people with a passion and enthusiasm for environmental issues, and a heart for supporting others on this journey, to become local Deanery Environmental Leads. Watch and find out more.
OpenLearn courses
The Open University offers thousands of courses on climate change in a range of formats to suit everyone's learning style. Browse OpenLearn courses.
---
Caring for our places
Eco Church
Over 20% of all our churches have registered with A Rocha UK's Eco Church scheme and we hope to see even more registered over the next year. It's a great way to engage your whole congregation in care for creation. It provides a framework, resources, and recognition for your achievements.
Find registered churches in our diocese - Let us know when your church has registered or gained an Eco Church award and we can add it to the map.
Energy Use
The diocese offers tailored advice to help your church reduce its environmental footprint and save money on energy bills through an energy audit. This is particularly helpful during the current energy crisis. Plus, you will receive a grant to fund improvements following audit completion and a decarbonisation plan with long-term actions to reach net zero.
Watch the Energy Saving in the Home webinar for tips and advice, with speakers from Low Carbon North Oxford and Low Carbon West Oxford.
Energy Footprint Tool
Thank you to all those who completed this year's Parish Returns Energy Footprint Tool. The data gathered is used to establish the Church of England's carbon baseline and monitor progress, to track the impact of the steps your church is taking to reduce your emissions. At a Diocesan level it also helps us to:
Spot churches with heating system issues.
Identify which churches would benefit from an energy audit.
Discover examples of good practices to share.
---
Working in partnership
Churchyards and Wilder Churches
We are working with the Berks, Bucks and Oxon Wildlife Trust on Wilder Churches, sharing information on how to provide spaces for nature within your churchyard or church garden. If you are already doing this - thank you! Please record your actions on the Team Wilder Map. See also our Land and Nature page and our upcoming workshops on churchyard management and Eco Church.
Rural churches and environmental wellbeing
Are you a rural church interested in creation care or would like support to embed environmental wellbeing within your wider mission? With support from the national Church, we are producing a suite of resources to enable more rural churches to take action.
View a checklist of actions with no-cost and low-cost top-tips to beat the rising energy costs. Find out about the wider work of the diocese supporting rural mission.
Church of England environment programme
The national church has a range of resources, webinars, case studies, and guidance on its website, which the Diocese of Oxford is contributing to and supporting. You can sign up to the newsletter and join the environment briefings by emailing us.
Schools, children, and young people
Visit our school resources and the EcoHub.
---
How the diocese is taking action

Our goals
The diocese aims to reach 'net zero' - the point at which we are no longer contributing to climate change. We've got two goals:
the national Church of England 2030 net-zero carbon goals, which cover buildings and transport,
and our wider diocesan goal of reaching net zero in full by 2035.
We also have a goal to become a Silver Eco Diocese by 2026, which will mean embedding holistic creation care across all our activities.
What we're doing at Church House
The diocese has taken a lead in calling for divestment and disinvesting from fossil fuels.
Church House Oxford is powered by renewable electricity, and we have a Staff Green Group always looking at ways of minimising our office environmental footprint, minimising waste, providing more recycling opportunities, increasing veggie or vegan menu options in the café, inviting colleagues to join in with climate campaigns such as Great Big Green Week.
We encourage more sustainable transport options, and all of our bishops drive electric or hybrid vehicles.
---