Discerning God's calling to a particular role
Welcome! Whatever stage of your vocation journey, it is great to hear from you. You may have a clear idea of what God is calling you to, or you might just have an inkling or a 'nudge' from God. Vocation is the word we use when we talk about God calling us into a particular role.
Your vocation could be your paid employment, such as a teacher, office worker or almost anything else. If that is where God has called you to work and to be a Christian as you work, that is an important part of your Christian life and witness. Your vocation could be outside paid employment - your role as a parent, or helping with a youth group. For some people, God calls them to a more formal role within the church, either paid or unpaid: this could be as a vicar, chaplain, youth worker, lay preacher, joining a religious community or becoming an evangelist.
In the Diocese of Oxford, we have a team of Vocations Advisors trained to help you think through your sense of vocation; they have access to the information you need and can ask the questions that will help you understand your call and what it might mean to you, your family and the church. If you believe God is calling you to ordained ministry or lay ministry please speak to your vicar or chaplain and contact us and we will put you in touch with a Vocations Advisor. Have a look at the further reading list for links to resources which help you understand the options as you prayerfully consider what God is calling you to.
Meet the Diocesan Director of Ordinands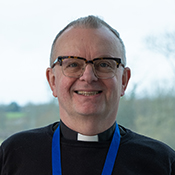 The Revd Dr Quentin Chandler is the lead Diocesan Director of Ordinands (DDO) in the Diocese of Oxford. In this role, he leads a seven-strong team of colleagues who work to help Christians explore lay and ordained vocations, and oversee them through the process of selection for ordination. Scroll down for details of vocations open evenings and events happening near you.
Click here to email Quentin, or call him on 01865 208 283
Register for events
How do we discover what God might be calling us to do in life? What has helped people with this? How can the Bible help? What can we look for?
Our vocations events are opportunities to look at some of the resources that have led people to find their purpose in the Lord's service. They will help you to explore questions you have and think about what your next steps might be. No previous experience is required. They are open to anyone interested in learning more about their vocation.
Follow our social media pages for updates about vocation events, open days and more.
Print out our flyer to pass out at your next Sunday service or small group.
---
Vocations Online drop in hour
Thursday 30 March 7:30pm, register for Zoom login details
Come and chat with people from the Diocesan Vocations Team about any aspect of calling. May also include interviews, guests, and discussion segments. Open to anyone whatever your calling, or stage.
Berkshire Exploring Vocations Group: Telling your story.
Thursday April 12 7:30pm, St Birinus House
How easy do you find it to tell the story of how God has called you? Sometimes (often?) this can feel difficult and finding the words to describe it is a challenge. This session will explore how we can grow in confidence in telling our story, and how we can explore what God might be calling us to in more depth.
---
In this section...
Guidance on exploring a calling to lay ministry in the Diocese of Oxford.
Guidance on exploring vocations in ordained ministry .