Archive content
This is a text-only version of an article first published on Wednesday, 21 April 2021. Information shown on this page may no longer be current.
---
In a keynote speech at the recent COP26, Divestment, and Investment for Climate Justice webinar, the Bishop of Oxford, the Rt Revd Dr Steven Croft, announced the Diocese of Oxford has completed its divestment from fossil fuels. "The Diocese of Oxford, like many organisations with equity investments, had investments in fossil fuel companies," said Bishop Steven.
"Given the strong stance we have taken on the climate emergency, Bishop's Council decided in December to disinvest from such companies and this has now happened. We now have no direct investments in the oil and gas producing sector."
Applying a methodology developed by the EIRIS Foundation, the diocese has excluded companies that derive more than 10% of revenues from the fossil fuels industry.
"We are also committed to investment in renewables, as well as to taking very seriously our commitment to good ESG policies more generally," said Bishop Steven.
The most recent report from our investment managers places the diocesan investment portfolio in the 95th percentile in terms of ESG engagement compared with peers. The news comes amidst further commitments from the wider Church of England to address the climate emergency, pursuing a policy of active engagement rather than rapid disinvestment, with a view to encourage change and transformation combined with the threat of divestment from companies without a clear trajectory to net zero.
Although Bishop Steven has been vocal on the need for faster action on divestment by the Church of England in recent years, during his keynote speech he praised the results achieved by the Church through engagement with key investment stakeholders, most notably through the Transition Pathway Initiative:
"Although I would prefer a closer horizon to divestment, I also applaud the outstanding work of the team and the clear progress made both with fossil fuel companies and with mining companies."
"A hallmark of the team's work is the collaboration with other churches and asset owners to increase and multiply traction and a commitment to continuous improvement and holding companies to account."
"We need to be clear - we all have a part to play in solving the climate crisis and therefore, collegiate thinking and support is key. The key division for me is not between those who advocate divestment and those who advocate engagement. Both groups are working towards the same ends with urgency and skill. The key division is between those who realise the present and future danger of catastrophic climate change and those who do not - and there are still many members of our churches in the second group."
The pledge to divest from fossil fuels and invest further into renewable energy is a further step towards a diocesan commitment to being carbon net zero by 2035. Care for the earth is at the top of the agenda for the coming years; recognising the distance we still have to travel.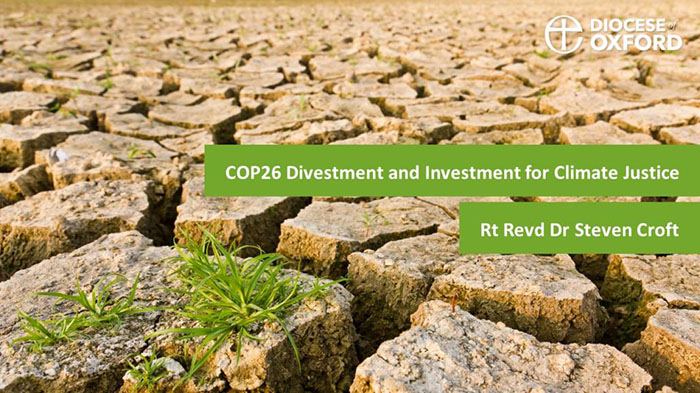 An Environmental Task Group led by the Rt Revd Olivia Graham, Bishop of Reading, has drawn together a robust network of experts across a range of environmental themes: theological, educational, and political. The ETG recently launched an online EcoHub to resource churches and congregations. 10% of churches across the diocese have already benefitted from energy audits and the number of churches on renewable tariffs has increased since Autumn 2018.
The ETG action plan goes further still, with plans to tackle emissions from clergy housing, schools, diocesan and area offices, travel and some aspects of procurement all coming under the spotlight to achieve net zero.
Bishop Steven is unequivocal in his belief that the solution to the climate emergency can only be achieved through partnership;
"Our response must be nothing less than an ecological conversion of every person and every part of society. Responding to the current emergency is the responsibility of every family, every workplace, every village, town and city, every company, and every public institution. The earth is God's gift as well as God's creation.
"Human beings are far more than consumers: we are called to be just stewards of creation, to care for the poorest and the weakest. Human fulfilment lies not in escalating consumption but in meaningful rest and labour and learning to be content."
ENDS
Notes for editors
For interview requests, please contact Steven Buckley on 07824 906 839 or Madeleine Hayden on 07880 716 761.
Bishop Steven is a member of the cross-party parliamentary group Peers for the Planet, and he writes regularly on the climate crisis.
The Diocese of Oxford declared a climate emergency in March 2020.