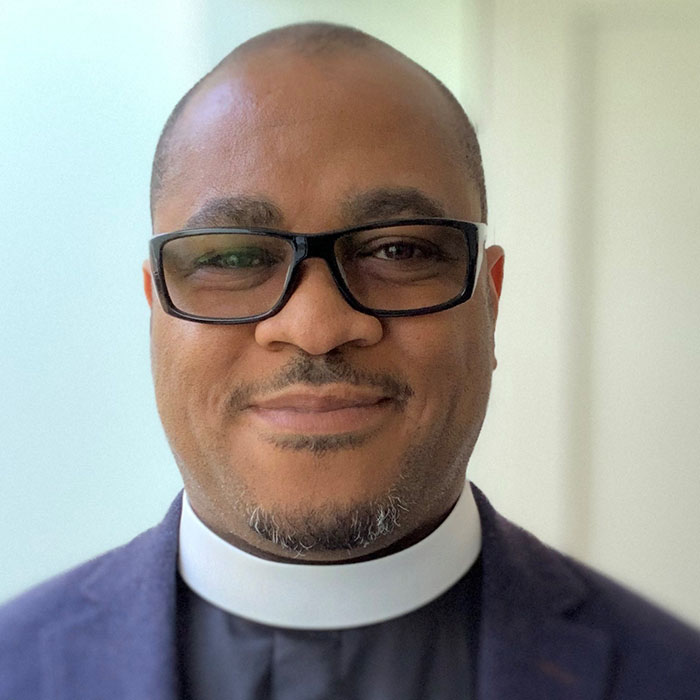 We are deeply saddened to share with you the news that our brother the Revd Dr Leonard Onugha, Rector of Finchampstead and California, collapsed and died at his home on Monday night, 20 March.
Please pray for Leonard's family – his wife Joanna and their three children René, Lucia and Gioia – and friends, those to whom he ministered in the parish, and all those who worked with Leonard.
Leonard had served as Rector of Finchampstead and California in the Diocese of Oxford since 2021. Leonard was ordained Deacon in 2018 and priested in 2019, after which he served his curacy, firstly in the benefice of Thatcham and then also as an Associate Minister in Emmer Green, Reading.
Leonard also took on additional roles in the diocese as Vocations Advisor for the Sonning Deanery and Vocations Champion for the Berkshire Archdeaconry, as well as being an active member of the UKME Clergy Chapter.
St James Church, Finchampstead will be open for private prayer, reflection, and the lighting of candles from 6-8pm each weekday evening this week, and 9am-1pm each weekday morning.

There will be one service this Sunday in the parish, at St James at 11am, at which Bishop Steven will preside and preach. The parish will be sharing more notices in the days to come.

Our prayers are with all those who are affected by this terrible and unexpected loss. We understand that this news will come as a shock to many of you who knew and worked with Leonard. The Berkshire Area Team are available to help during this time if you would like pastoral support.

We give great thanks for Leonard's life, his faithful ministry, and his commitment to the Lord. We commend him into the everlasting love of God.
- The Rt Revd Dr Steven Croft, Bishop of Oxford
- The Rt Revd Olivia Graham Bishop of Reading
---